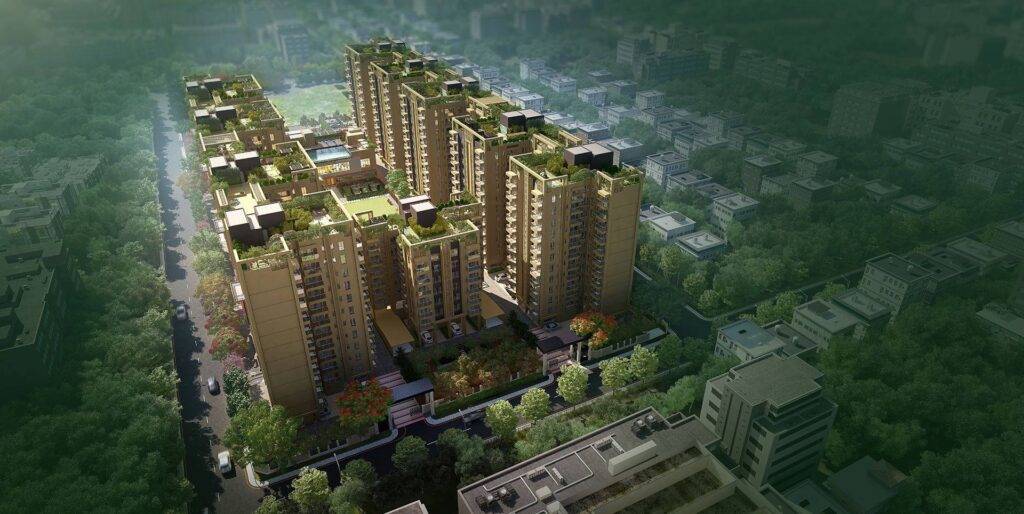 Urvisha by Ambuja Neotia | 2 & 3 BHK Flats in Newtown | Under Construction Projects in Kolkata - PH Realtors
What qualities do you seek in a house? Perhaps the upscale setting, the neighborhood, or even the surroundings like that of Urvashi by Ambuja Neotia. If you're planning to purchase a 2 or 3 BHK apartment in Kolkata, please read this post before making your decision. We have outlined the essential facilities you should look for before deciding.
| Unit Type | Size (Sq. Ft.) | Price (₹) | Price Breakup |
| --- | --- | --- | --- |
| | | | |
| | | | |
| Unit Type | Size in(Sq. Ft.) | Price (₹) | Price Breakup |
| --- | --- | --- | --- |
| | | | |
| | | | |
NATURAL LIGHTING AND CROSS VENTILATION
Imagine not having adequate ventilation or sunlight in your apartment while residing on the 25th story of a skyscraper, or even on the 10th floor.
No matter if you live in a 2 BHK or 3 BHK flat in Kolkata, it is crucial to have adequate cross ventilation and a healthy flow of sunlight. It can actually have a detrimental impact on your daily life and present significant disadvantages for you and your family. In addition, check that your kitchen and bathrooms have enough ventilation, as even these can seriously harm your living areas if neglected. Urvisha by Ambuja Neotia has proper lighting and ventilation.
The approaching rush hours, which are so important in Kolkata, can be dealt with, but terrible roads would never be tolerated—the pun was
totally intended! It's important to have a nice morning, but how can you expect to have a positive frame of mind when there are ditches and bumps on the road? Make sure the roads around your 2 & 3 BHK flats in Kolkata are safe. Health issues brought on by bad roads can eventually cost you in the rear! Ensure that the roads are navigable and in good condition.
Kolkata has always had problems with its water supply. You must ensure that the region around your 2 & 3 BHK homes in Kolkata has an 
adequate water supply. If you don't take care of this element, it could have an impact on your finances and health. Water is necessary for daily life, and ensuring that you have plenty of it might actually help you handle the rest!
If you're out there selecting the greatest 2 BHK & 3 BHK flats in Kolkata, be sure to select a gated community. When it comes to people
who want plenty of security, gated communities are always preferred. The greatest types of good protection are CCTVs, qualified and reputable security personnel from a reputable security agency, and a safe neighborhood. You can even consider moving to Urvisha by Ambuja Neotia.
 When you purchased your automobile, a similar notion must have crossed your mind, but would you leave it parked out in the open
exposed to the unsafe traffic and careless drivers?
We simply HAD to bring this amenity out here for you folks looking out for 2 BHK & 3 BHK flats in Kolkata because it's one of the most underutilized ones. Make sure your realtor considered the overall number of occupants in the unit and left enough parking space! Make sure you have enough room to park your automobile without jeopardizing the safety of someone else.
Jumping on the chance to offer smart perks now is a terrific approach to adopt a sustainable high-end apartment amenity and get
ahead of the internet-of-things game since smart homes and apartments are the future. It's surprisingly easy and affordable to update existing units or add smart features to new units or buildings. For instance, smart thermostats, which enable residents to control their heat and air conditioning remotely, are easy to install and offer significant savings. When tenants vacate, a property manager may easily turn the system off. You may provide your residents a luxury apartment amenity that is both eco-friendly and distinctive by including features like smart locks and light switches.
For city dwellers, green space is the ideal high-end amenity. Residents can find tranquility after a long day in a well-kept, cozy location with
an abundance of greenery. Even if your property is located in a less populated region, a green area is ideal for inhabitants to entertain guests and enjoy some fresh air after a long day at work indoors. This luxurious apartment amenity can be the ideal option for your building! Gardening may be a great way for people, especially city dwellers, to connect with nature. Just be sure to schedule a few instructional sessions instructed by a horticulture professional so that locals may understand how to get going.
Check the garbage disposal practices used in your apartment building. If your city has rules governing the segregation and disposal
of garbage, find out if the apartment has a mechanism in place to make sure that these rules are followed.
A Vastu-compliant apartment design is very significant to many buyers. Feng Shui and Vastu are founded on science and practice 
rather than religion. An apartment that faces east, for example, will have enough light and ventilation. Before you purchase a house, think about asking about the same.
Find all of these facilities and much more at Urvashi by Ambuja Neotia.
| Floor Plan | | Area | Price |
| --- | --- | --- | --- |
| | | | |
| | | | |
| Floor Plan | Area | Price |
| --- | --- | --- |
| | | |
| | | |
| Floor Plan | | Area | Price |
| --- | --- | --- | --- |
| | | | |
| | | | |
| Floor Plan | Area | Price |
| --- | --- | --- |
| | | |
| | | |