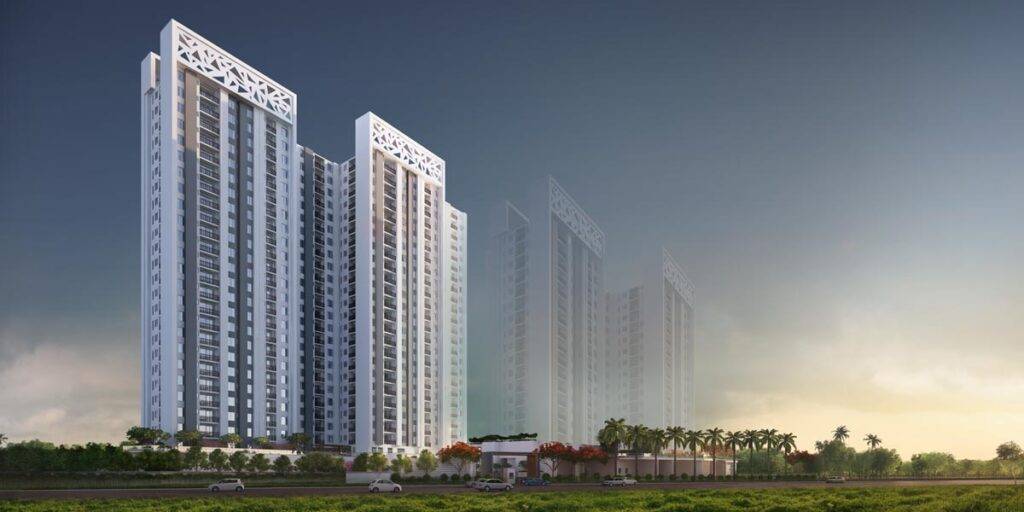 Rishi Pranaya in Newtown | 2, 3 BHK Luxury Flats Near Ecospace Newtown | Under construction Projects - PH Realtors
It is typical to hear stories about people obtaining bad bargains on homes. What ought to be a dream house could wind up having some undesirable features. If you make sure the apartment, you're thinking about has the features you want, you can completely avoid this problem. Aside from luxurious aspirations, there are other facilities you should not skimp on if you want to be happy in an apartment. Then Rishi Pranaya in Newtown is the best option for you.
| Unit Type | Size (Sq. Ft.) | Price in Lacs (₹) | Price Breakup |
| --- | --- | --- | --- |
| | | | |
| | | | |
| Unit Type | Size in(Sq. Ft.) | Price in Lacs(₹) | Price Breakup |
| --- | --- | --- | --- |
| | | | |
| | | | |
| Floor Plan | | Area | Price |
| --- | --- | --- | --- |
| | | | |
| | | | |
| Floor Plan | Area | Price |
| --- | --- | --- |
| | | |
| | | |
| Floor Plan | | Area | Price |
| --- | --- | --- | --- |
| | | | |
| | | | |
| | | | |
| Floor Plan | Area | Price |
| --- | --- | --- |
| | | |
| | | |
| | | |
This is unavoidable, especially if you reside in a city where power outages are often. 
You should make sure that the house you are buying has power backup because some neighborhoods are prone to power outages.
High-rise residences are typical in cities since space is increasingly limited.
In residential buildings, elevators are a need. If it's a sizable apartment building, make sure there are multiple lifts and power backups.
Cities with large populations are increasingly experiencing water scarcity. Checking
to see if there is a continuous water supply in the apartment building will help you avoid future problems. You could also take extra precaution to examine the water's quality after receiving it.
Every apartment building must have the bare minimum in security. An unprotected 
apartment building is a poor investment, regardless of whether there are 24-hour security guards on duty or automated security systems.
This is one of the top needs for apartment buyers. Purchasing a property without a
parking spot leads in years of difficulties with regard to parking. Keep in mind that covered areas are best.
Facilities for recreation
Apartments must must provide leisure amenities on-site as urban inhabitants' needs
rise. These could include children's play areas, gyms, swimming pools, or tennis courts. Another crucial thing to consider is whether these facilities are being properly maintained. Rishi Pranaya in Newtown has access to private theatres and a grand community hall to keep you entertained.
You have a right to access shared areas like the terrace and event spaces as
an apartment owner. To make sure you get what is rightfully yours, try to grasp the terms of access before approving the purchase.
Check the garbage disposal practices used in your apartment building. 
If your city has rules governing the segregation and disposal of garbage, find out if the apartment has a mechanism in place to make sure that these rules are followed.
Vastu-compliant architecture
A Vastu-compliant apartment design is very significant to many buyers. Feng Shui
and Vastu are founded on science and practice rather than religion. An apartment that faces east, for example, will have enough light and ventilation. Before you purchase a house, think about asking about the same.
A friendly round of pick-up tennis or basketball is a terrific way for locals to foster
a sense of community. Your tenants will appreciate having access to sporting venues like tennis or basketball courts, whether they host guests or arrange a game with their neighbors. In the end, this pricey apartment amenity is worthwhile because it offers a variety of advantages, including a central location for competition, community development, and fitness!
For city dwellers, green space is the ideal high-end amenity. Residents can find 
tranquility after a long day in a well-kept, cozy location with abundance of greenery. Even if your property is located in a less populated region, a green area is ideal for inhabitants to entertain guests and enjoy some fresh air after a long day at work indoors.
Coworking spaces are excellent, but when winter comes and the roof
deck or outdoor space is closed, your tenants will need a place to hang out. Make a comfortable space where people can watch TV with friends or play pool and board games. When you establish this area, do so with great intention. Residents won't want to use the area if it feels too stark or bright! Instead of going for a stuffy office atmosphere, try to give this high-end apartment amenity a coffee shop feeling. Rishi Pranaya in Newtown has indoor games room with pool table, carrom and many other games.
Make being green simple, and your neighbors will be very appreciative. You might 
install recycling bins on each floor or make sure that each building has a recycling center that is conveniently located. Better yet, implement energy and water efficiency upgrades that will benefit the environment while saving you and your people money. Solar panels are another option you might think about, as they may be used in conjunction with your current water heating equipment. These luxurious apartment facilities will eventually pay for themselves through cost savings, increased resident pleasure, and environmental advantages! Rishi Pranaya in Newtown has gardens and open cabanas to fulfil this criteria.
Contact Helpdesk on
Whatsapp(Chat Only)